Issue 25
| | |
| --- | --- |
| Issue 25 | February 24, 2010 |
Hello Friend !

We are celebrating another birthday in the Estes household this week. Last week I turned 45 and today my

lovely bride of almost 16 years turns....(you didn't think I would actually print her age did you!).

Happy Birthday Jen!

Speaking of family, let me tell you a funny story. The other day Jen and our 2 girls Grace (age 10) and Maddie (age 8) were driving by a Walgreen's. The sign out front read "We still have H1N1 Shots available".

As they passed by the store Maddie read the sign aloud - or at least she read what she "thought" the sign said. Here's what Jen and Grace heard: "We still have HEINEY Shots available"!!

They cracked up to which Maddie exclaimed, "I don't think I want one of those HEINEY shots!".

Today's feature article discusses how you can give your business a shot in the heiney....it's called

Mastery

.

Until next time, here's to Winning Often and Winning Big!"

Carpe diem!

Mike

Mike Estes

"The Winner's Coach"
The 5 Essential Keys to Mastery

In today's "Quick Fix" society we want instant gratification. We see it everywhere. We have books and courses that promise us "Total Fitness in 12 Minutes a Week" or "Make Millions by Working Only 2 Hours a Week In Your Underwear at Your Kitchen Table". Ridiculous!
Long term success is built on the foundation of mastery.
You don't hear much about mastery today because it involves hard work. Like me, maybe you have enjoyed watching bits and pieces of the Winter Olympics. These highly trained athletes from around the world have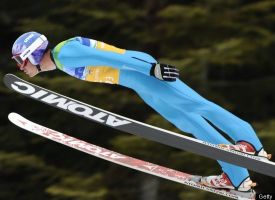 worked many years to master the basics of their sport. As a result, we continue to witness new world records being set in almost every Olympic sport.
So what exactly is mastery and how can you apply the concept to your life or business? In his excellent book, "Mastery: The Keys to Success and Long-Term Fulfillment", George Leonard lays out the 5 keys to mastery.
5 Keys to Mastery:
Key 1: Instruction: Some skills come naturally and some can be learned on your own. However, if you truly want to journey down the path of mastery, it's imperative to seek instruction from the "best of the best". Any champion in business, sports, or life has been instructed by a number of teachers, coaches, and mentors along the way.
Key 2: Practice: In any area you desire to achieve mastery, practice is a must. If you peel back the covers and peek into the daily life of any of the 2010 Olympians you will see it filled with hours and hours of practice. We often just see the final result - the new world record or the winning shot in hockey. But before there were cheering crowds celebrating the big wins, there were hours upon hours of disciplined practice.
Key 3: Surrender: You must be willing to surrender to your teacher as well as to the demands of your particular discipline or calling. In doing so, you bring a certain humility that will allow exponential gains on your path to mastery.
Key 4: Intentionality: Another essential key to mastery, intentionality can also be thought of as the "Mental Game". As I've watched interviews throughout the Olympics, most athletes talk more about the mental game - or their "vision" than they do the physical preparation or performance. Golfing great Jack Nicklaus once said that a successful shot is 50% visualization, 40% set up, and only 10%% swing.
Key 5: The Edge: To achieve mastery you will have to "go to the edge" or "push the envelope" from time to time. This doesn't mean that you throw all caution to the wind and perform recklessly or dangerously. However, to achieve mastery and thus break through to new heights will require you go beyond the realm of all that is "possible' into the new and uncharted waters of the "impossible".
Mastery - it's not for the faint hearted, but it can certainly take you on paths you never dreamed possible. Why not get started on your path to mastery today!
Recommended Resources

Mastery: The Keys to Success and Long Term Fulfillment
by
George Leonard
Only $9.89
---------------------------------------------------------------------------------
DISC Profile: The Personality System
This workbook identifies an individual's personality style, D, I, S, or C by using a simple 24-question profile (takes only 7-minutes!) and helps provide understanding to the differences in people, providing a personal review of each individual's strengths and limitations, and gives an action plan to improve relationships. This profile utilizes three-graph analysis.
Only $18
Click Booklet for More Info!
Now with 36 Pages!
This Profile has many applications. It can be used to:
Improve communication and relationships with family, friends, co-workers, etc.
Discover your personal motivators
Find career options to best fit your personality style
Compare yourself to historical figures and leaders
Learn to maximize your personal strengths
Identify stressors
Reduce conflict and stress
Improve sales
Identify qualities and gifts
About Mike Estes & Born To Win
Mike is the President and Founder of Born To Win, LLC. Mike's core belief is that "We are all Born To Win" - but sometimes we need a little help.
That's why he founded Born To Win - to help others to not just win, but to WIN BIG in their business and personal lives.
Mike is a multi-million dollar sales producer and is passionate about helping small businesses excel at growing their bottom line. As a certified Total Integration consultant, Mike has both the expertise and world-class suite of tools to help you to take your business to heights that you only dreamed of.
A true kid at heart, Mike believes in having fun while pushing the limits. An example of this is his recent jump from the top of a telephone pole to a trapeze bar! Are you ready to win big? If so, contact Mike and the folks at Born To Win today via
email
or call them at 615-567-6815.
Born To Win | 1515 Towne Park Lane | Franklin | TN | 37067