Issue 23
| | |
| --- | --- |
| Issue 23 | January 10, 2010 |
Hello Friend !

Depending on who you listen to, the economy is still spiraling downward and we have yet to hit bottom - or - we have hit bottom and better days are just around the corner.

Either way, would you agree with me that there is still a lot of fear and uncertainty in our world today. But I've got some encouraging news for you in our feature article, "

Got Fear

".

By the way, if you haven't looked at the calendar lately, Valentine's Day is quickly approaching. There aren't many fears that rival that of forgetting your sweetheart on Valentine's Day! So while it's on your mind, go ahead and make those special plans.

Until next time, here's to Winning Often and Winning Big!"

Carpe diem!

Mike

Mike Estes

"The Winner's Coach"
Got Fear?

Have you ever sat and thought about all of the things that are wrong with our world? Now I'm an optimist by nature, but if I let myself sit around and ponder all of the evils of this world it wouldn't be long until I would be consumed with fear.
With all of the economic instability, wars, poverty, famine, natural disasters, broken marriages, corporate failures, personal bankruptcy, death/disease, etc. in the world today, it's easy to see how one can become paralyzed by fear and it's evil twin anxiety.
But just as every coin has two sides, so it is with our options when it comes to fear. It's quite simple really - we only have 2 choices: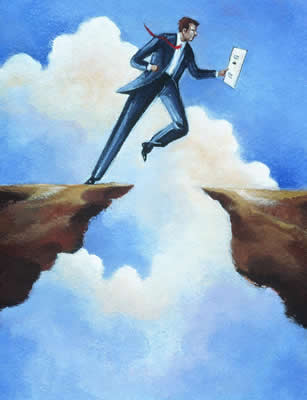 1) Fear
2) Fear Not
Notice I said it is simple - not necessarily easy. I think this is why God talked more about fear than almost any other subject in scripture. As a matter of fact, there are approximately 365 verses that contain the phrase "Fear Not" or "Do Not Be Afraid" in the Bible. I'm no mathematical genius, but the way I see it God provided us a verse for every day of the year.
This theme runs throughout the Bible. God knew there would be trouble - all of the woes of the world have not taken Him by surprise. However, He calls us to put our faith and trust in Him and to not be afraid. He is greater than any circumstances that you or I will ever face. His command to "Fear Not" is given more times than any other command in the Bible. He loves us and does not want us to live a life filled with fear.
Let me share a few of my favorite verses with you:
Psalm 27:1 "The LORD is my light and my salvation; I will fear no one. The LORD protects me from all danger; I will never be afraid."
Isaiah 51:12 "The LORD says, "I am the one who strengthens you. Why should you fear mortals, who are no more enduring than grass?
Genesis 26:25 "
That night the LORD appeared to him and said, "I am the God of your father Abraham. Do not be afraid; I am with you."
Matthew 28:10 "
Do
not be afraid," Jesus said to them."
2 Timothy 1:7 "For God did not give us a spirit of timidity, but a spirit of power, of love and of self-discipline."
Yes, there are troubles and there will continue to be troubles. But remember, the choice is as simple as putting our faith in God and choosing to FEAR NOT!
Recommended Resources
The DISC Profile: The Personality System
This workbook identifies an individual's personality style, D, I, S, or C by using a simple 24-question profile (takes only 7-minutes!) and helps provide understanding to the differences in people, providing a personal review of each individual's strengths and limitations, and gives an action plan to improve relationships. This profile utilizes three-graph analysis.
Only $18
Click Booklet for More Info!
Now with 36 Pages!
This Profile has many applications. It can be used to:
Improve communication and relationships with family, friends, co-workers, etc.
Discover your personal motivators
Find career options to best fit your personality style
Compare yourself to historical figures and leaders
Learn to maximize your personal strengths
Identify stressors
Reduce conflict and stress
Improve sales
Identify qualities and gifts
About Mike Estes & Born To Win
Mike is the President and Founder of Born To Win, LLC. Mike's core belief is that "We are all Born To Win" - but sometimes we need a little help.
That's why he founded Born To Win - to help others to not just win, but to WIN BIG in their business and personal lives.
Mike is a multi-million dollar sales producer and is passionate about helping small businesses excel at growing their bottom line. As a certified Total Integration consultant, Mike has both the expertise and world-class suite of tools to help you to take your business to heights that you only dreamed of.
A true kid at heart, Mike believes in having fun while pushing the limits. An example of this is his recent jump from the top of a telephone pole to a trapeze bar! Are you ready to win big? If so, contact Mike and the folks at Born To Win today via
email
or call them at 615-567-6815.
Born To Win | 1515 Towne Park Lane | Franklin | TN | 37067